William Barfé, portrayed by freshman student Josiah Howlett, expresses a moment of nervousness during his turn to spell in the bee. From November 6-11 2014, WKU performed "The 25th Annual Putnam County Spelling Bee" in Russell Miller Theatre.
Temporarily breaking character, senior student Sarah Hall and Josiah Howlett share a laugh during rehearsal on October 16, 2014. In the production, the shy Olive Ostrovsky, played by Hall, became friends with William Barfée, played by Howlett, and was another one of the six spellers competing in Putnam County's regional spelling bee. Much like their actors, the two characters developed a friendship over the course of the production.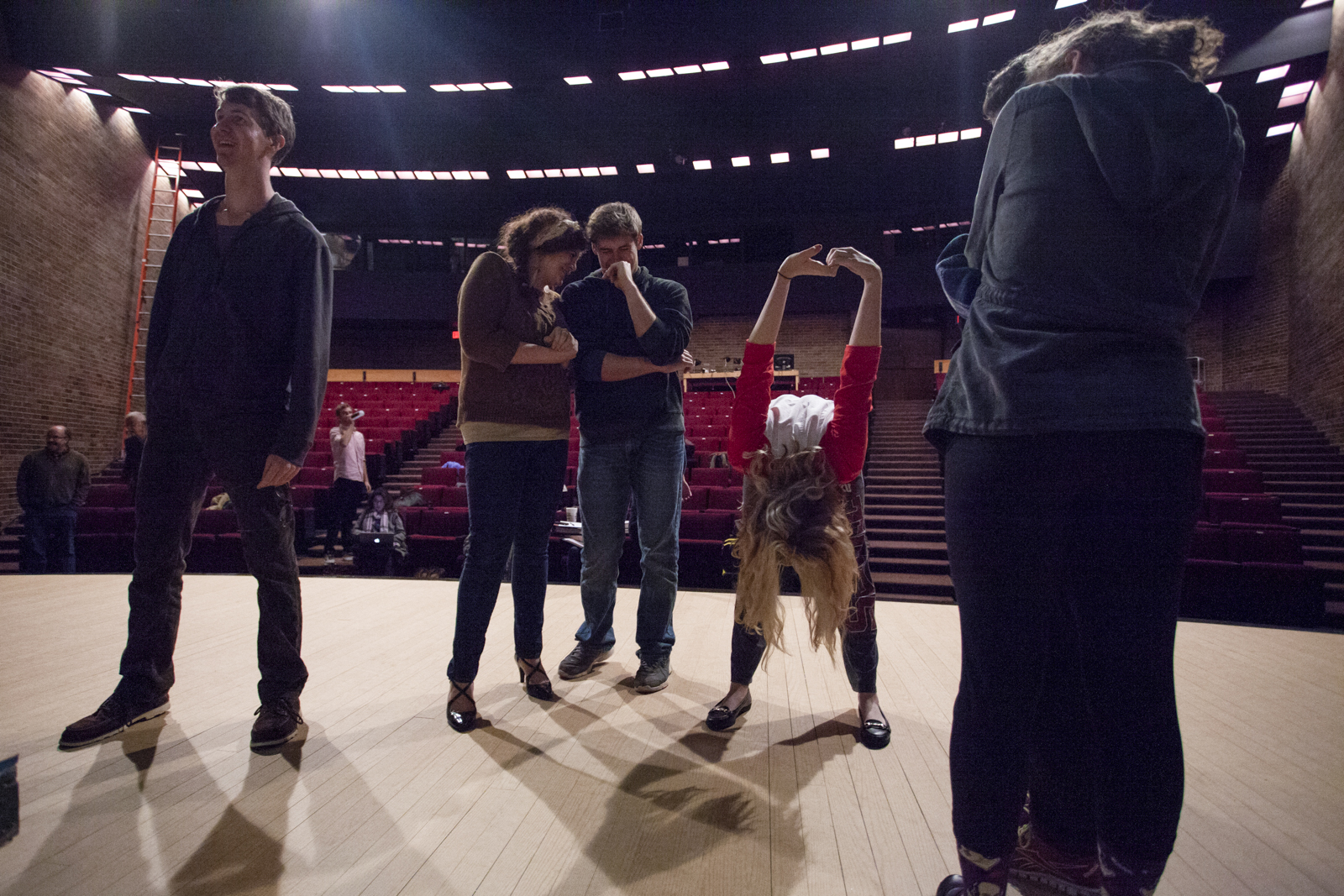 Hall stretches while singing vocal warm-ups to prepare for the first rehearsal in Russell Miller Theatre. Once the rehearsals were relocated to the final location, the cast was required to seriously focus on fine-tuning the intricate details of the show.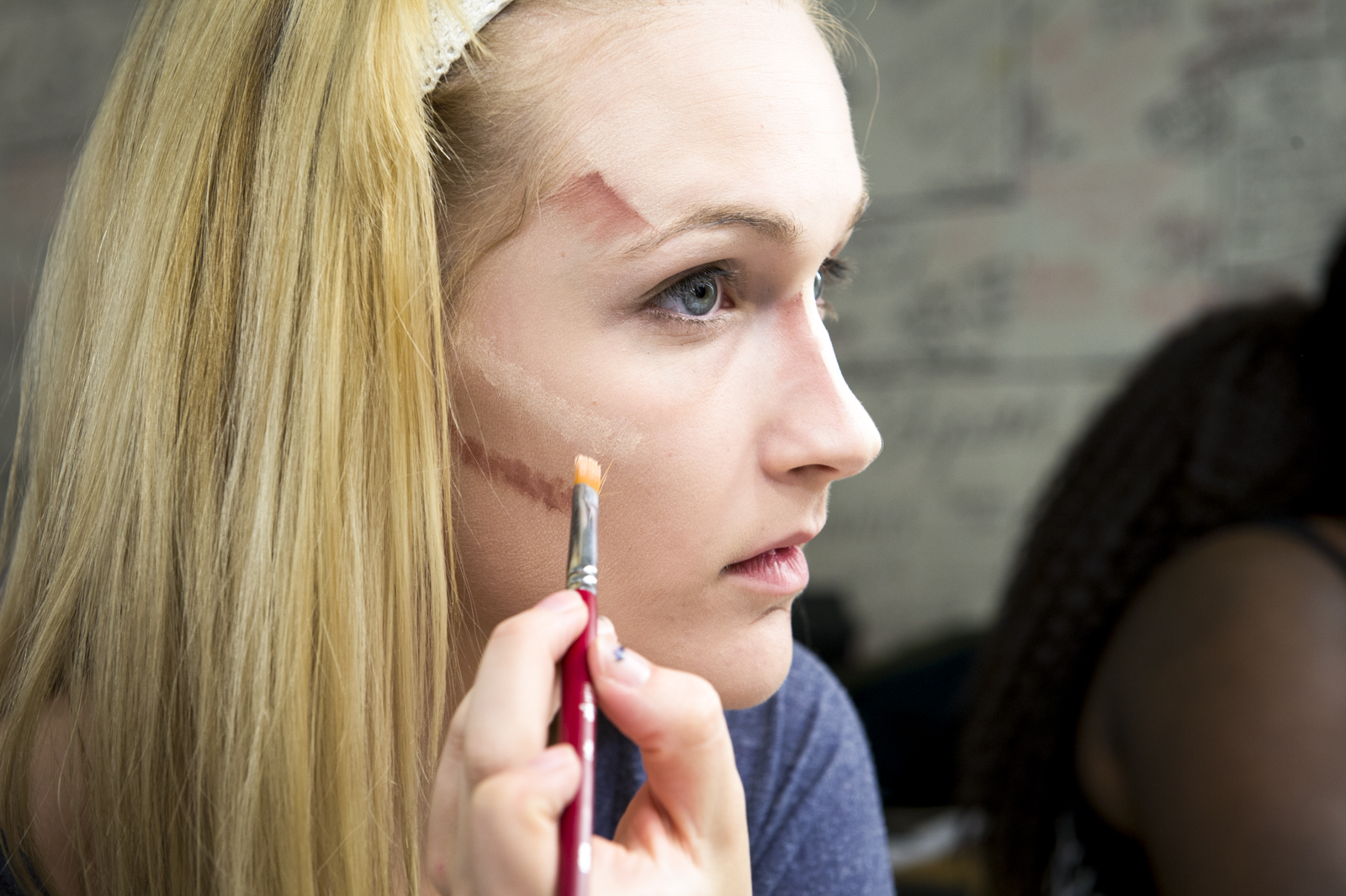 Concentrating on her contour work, Sarah Hall carefully uses her artistic skills to create dimension on her facial features that can be noticed from far off-stage. Theatre students are required to take classes to learn the art of make-up, and each prepare themselves individually before performances.
Howlett, as William Barfée, stands to take his turn as a speller in the bee. As the opening dates for "Spelling Bee" drew near, props came into play during rehearsals. Though they had gained a thorough sense of their characters' personas long before these details came into existence, props still aided the cast in creating a convincing portrayal for the show.
Backstage after the final curtain call, Howlett and Hall stand beside their cast-mates as technicians remove their microphones. The cast had its pre- and post-production rituals memorized and down to a steady-flowing rhythm.
In a moment of personal glory, William Barfée's spelling bee competitors gather around him to show off his famed "magic foot." Scripts littered the floor of the rehearsal room on October 9 as the group completed a run-through of the first act.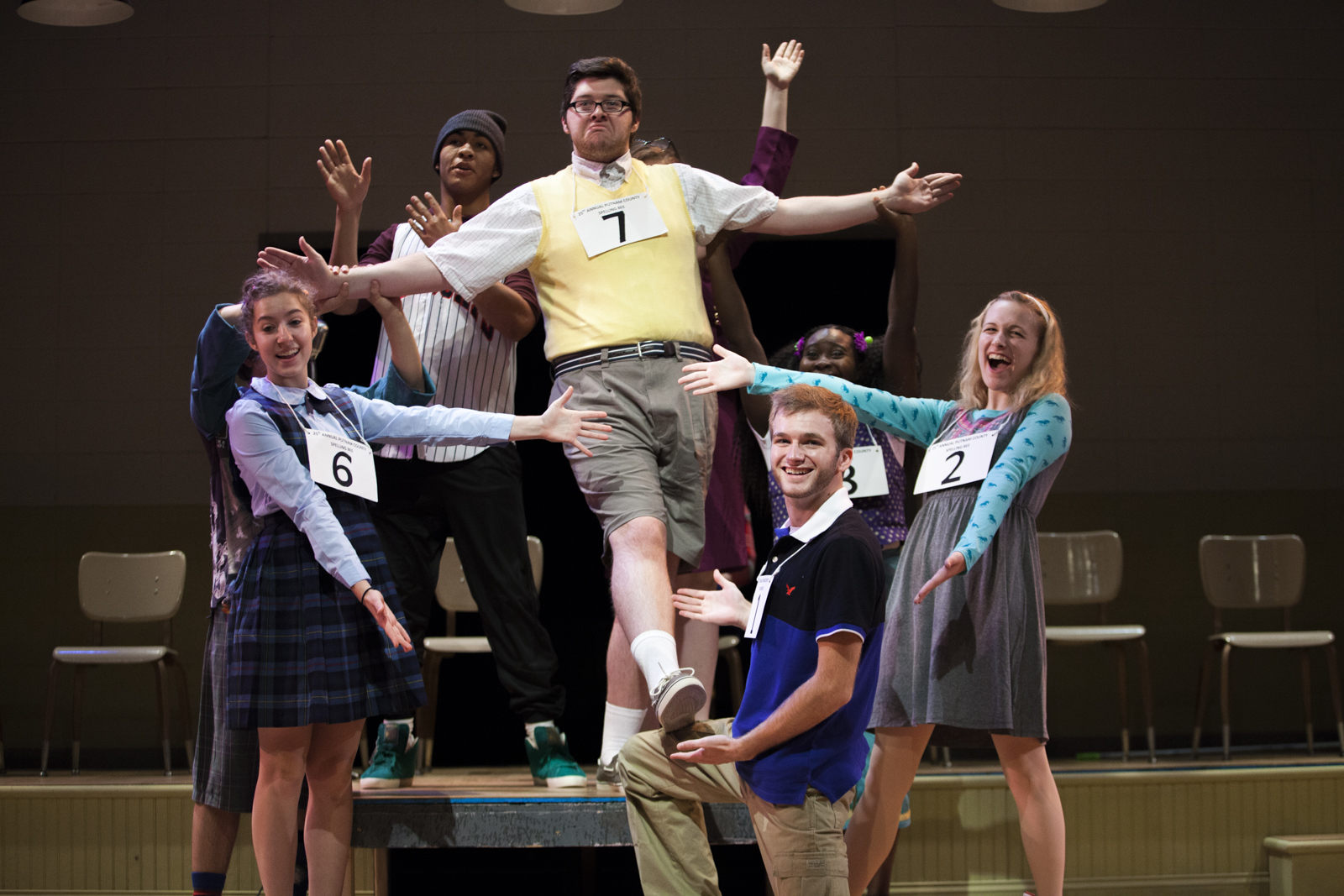 William Barfée shows off his "magic foot" during the finished production. After the production's team of directors and managers had analyzed each and every detail, an incredible amount of fine-tuning was necessary to achieve the desired synchronism.
SPELLING BEE